Longchamp Le Pliage Bag Dupes You Need Now
Inspired by the Japanese art of Origami, Longchamp Le Pliage Bag is the world's most loved handbags thanks to the unique foldable design. Created in 1993, Le Pliage continues to sell in their original form as well as a few new editions.
Longchamp Le Pliage Cuir
Longchamp now offers different versions including Longchamp Le Pliage Cuir, Club, Néo, LGP, Travel. Recently, they have launched the option to personalize your very own Lonchamp Le Pliage.
Even though we still adore the original, the modern pieces continue to incorporate the classic design features which made the first edition such a success. That's right even the leather handbags are foldable, making them easy to carry when traveling and are also very spacious. With the high-quality Metis leather, one of these bags could cost you in excess of $840. Although is this not overly high for a little luxury indulgence, it is still way beyond budget.
If we told you, we knew the perfect place to purchase a dupe Longchamp Le Pliage Large, would you consider investing in one of these eye-catching items?
Longchamp Le Pliage Bag Dupes
Dupes are the best alternative to original handbags. They are crafted in a way to replicate the design of the classic Longchamp Le Pliage by. The dupes have the same iconic concepts, namely the foldable design so you feel you have a true Longchamp.
We have found dupes that offer the perfect alternatives to the Le Pliage Travel or Large as well as the Cuir pieces. Both of the handbags are made using calfskin leather. This material creates the same feel and touch of the Metis Leather which is actually produced using a blend of lamb and goatskin. By using high-quality calfskin leather, you can rely upon long-lasting quality as well as great looking bag for causal and professional outings.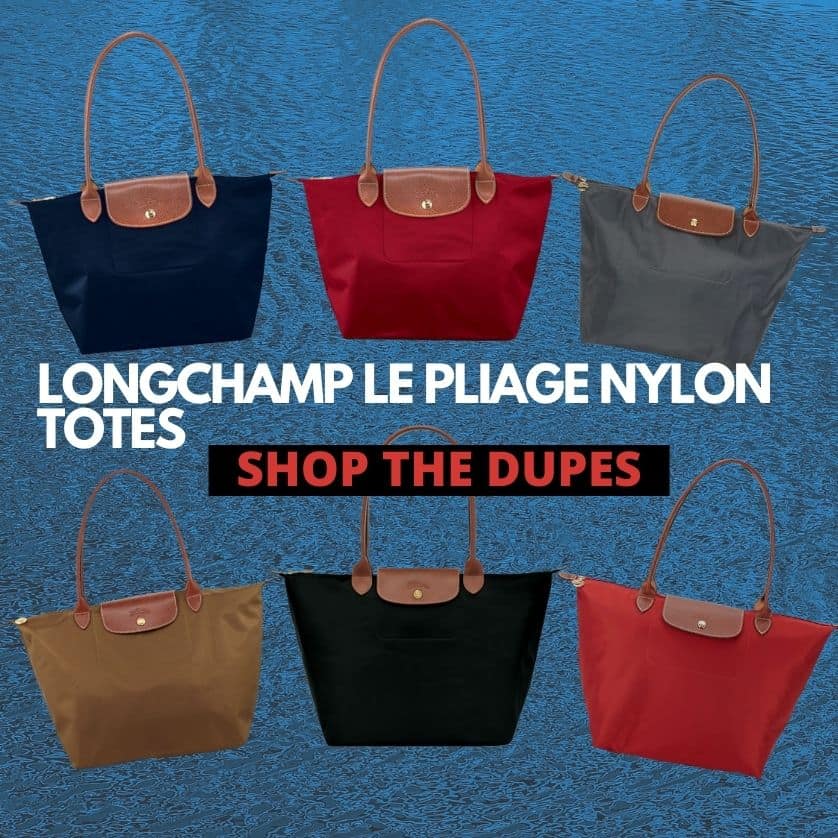 Longchamp Le Pliage Large,Medium and Small
All the Longchamp Le Pliage Neo dupes, come with an extra trap, allowing you to style your bag over the shoulder or simply as a hand-held handbag. The zips and buttons are finished using gold-tone hardware. This develops a similar simplicity yet attention to detail as the Luxury Longchamp Le Pliage Small
One of the greatest successes with Le Pliage is the choice of color palette. The handbags are available in a pastel range of colors, meaning everyone can find a bag to suit their needs and even purchase for different seasons. This spectacular use of color has been translated into Longchamp Le Pliage Medium dupe alternative as this a huge draw to the handbag designs.
So, what is the price tag of this exceptional Longchamp dupe? Well, this is the best part, you can buy one of these wonderful pieces for only $109. This is a great price for such quality and a truly luxury designer label replicate.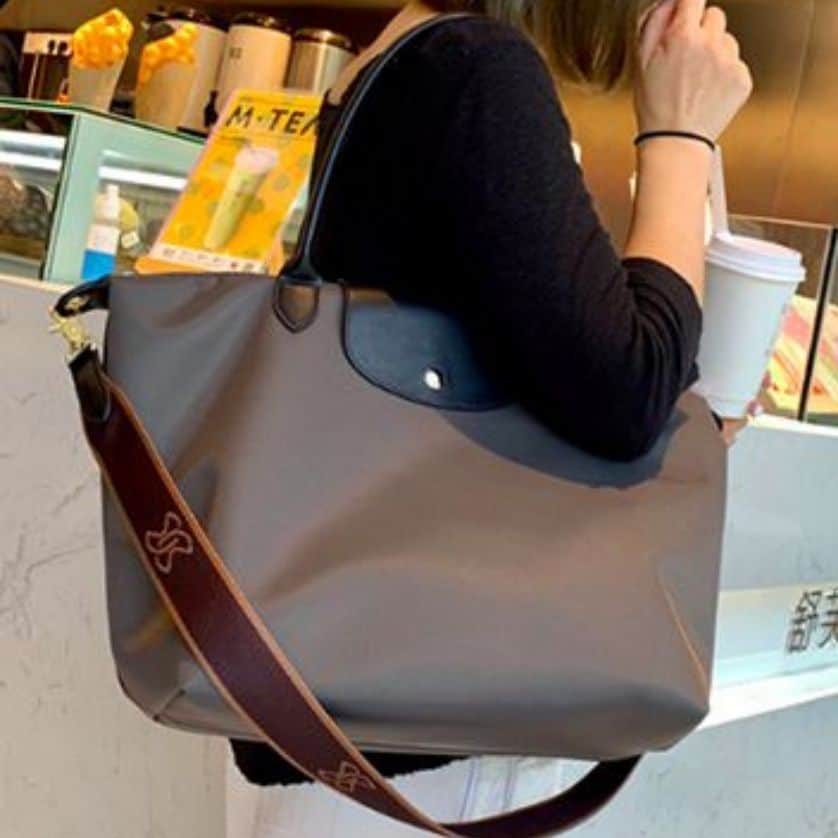 Designer Inspired Handbags on Baginc
Don't hesitate to purchase your favorite Longchamp Le Pliage Small or Large by Longchamp today. Walk down the high street and step back into the office looking stylish and feeling on-trend with this fantastic dupe!
Longchamp Le Pliage Neo continues to sell in their original made using the iconic Nylon material combined with leather for the strap and close. Thanks to the success of the original piece, Longchamp has since designed, developed, and launch new editions incorporating all the features which made the bag so popular.
We have found dupes that offer the perfect alternatives to the Le Pliage Original, Travel, Large, Cuir, and Faux Leather pieces.
Top Quality Look Alike Handbags
By far, the most popular Longchamp seen on the high-street is your classic Longchamp Le Pliage Neo in Nylon. Hence, the dupe market is full of alternative and cheaper options to the original. The quality and design concepts are maintained in the dupes as they are crafted using similar high-quality Nylon. In addition, they are combined with a faux leather material for the straps. Spacious, on-trend, foldable, and compact, there is no doubt you will want to take one of these Le Pliage Classic Dupe bags everywhere you go!
Longchamp Le Pliage Alternatives
The dupe market certainly has a great range of handbags with perfectly mimic the great design, look and feel of original luxury handbags. This is also true of the Longchamp Le Pliage Large in faux leather, easily replicated, the faux leather dupe versions come in two different sizes depending on the reason for your use. They can be bought for as a little as $56 and have all the same great benefits as an original Longchamp Le Pliage Medium piece. Create a statement look today by exploring the range of colors available from autumn, summer, spring to winter tones so you can purchase the right bag for the season.
Well, this is the best part, you can buy one of these wonderful pieces for anything from $56-$109
Why purchase one of these designer dupes?
Well not only are they popular with consumers, but they are also styled and used by celebrities across the globe. Even members of the Royal Family, Kate Middleton, and Megan Markle have been snapped using their much-loved Le Pliage Classic Longchamps. The Longchamp handbags have been styled by celebrities since the early 2000s and this continues today with stars such as Jennifer Lopez walking down the high street with their favorite handbag by Longchamp.
Be stylish, look like your favorite celeb, and dress like royalty with a Longchamp Dupe. We have found some of the best Le Pliage Nylon, Faux Leather
Shop More Designer Dupes